QIMR Berghofer Medical Research Institute
Neuroimaging Genetics
300 Herston Road
Herston, Brisbane, 4006
AUSTRALIA
Project leader
Dr. Margie Wright (Neuroimaging Genetics)

Phone:

+61 7 3362 0225


Fax:

+61 7 3362 0101
E-mail
Project staff
Prof. Nick Martin (Genetic Epidemiology)

Phone:

+61 7 3362 0278


Fax:

+61 7 3362 0101
E-mail
Dr. Sarah Medland (Quantitative Genetics)

Phone:

+61 7 3362 0248


Fax:

+61 7 3362 0101
E-mail
Dr. Narelle Hansell (Neuroimaging Genetics)

Phone:

+61 7 3362 0299


Fax:

+61 7 3362 0101
E-mail
Dr. Miguel Renteria (Genetic Epidemiology)

Phone:

+61 7 3362 0264


Fax:

+61 7 3362 0101
E-mail
Mr Baptiste Couvy-Duchesne (Neuroimaging Genetics)

Phone:

+61 7 3362 0294


Fax:

+61 7 3362 0101
E-mail
Mr Lachlan Strike (Neuroimaging Genetics)

Phone:

+61 7 3362 0294


Fax:

+61 7 3362 0101
E-mail
Institute presentation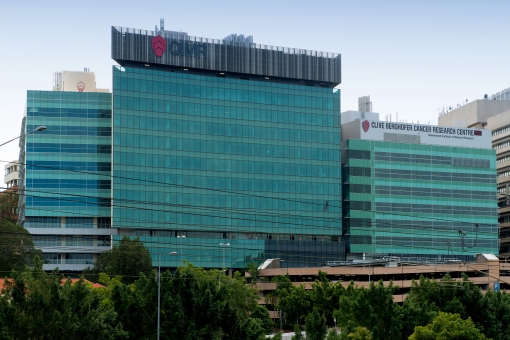 The QIMR Berghofer Medical Research Institute (until recently known as the Queensland Institute of Medical Research, www.qimrberghofer.edu.au) is a world leading translational research institute focused on cancer, infectious diseases, mental health and a range of complex diseases. Working in close collaboration with clinicians and other research institutes, our aim is to improve health by developing new diagnostics, better treatments and prevention strategies. QIMR Berghofer is home to more than 700 scientists, students and support staff in six research departments, in over 50 separate laboratories and a support division. According to the Nature Publishing Index 2012, QIMR Berghofer is the highest ranked medical research institute in Australia.

QIMR Berghofer's Mental Health and Complex Disorders Program combines a number of disciplines to study the genetic and multi-factorial environmental influences in a range of diseases from schizophrenia and depression to haemochromatosis and migraine. These conditions hold an enormous burden of illness and unmet research need. QIMR Berghofer utilises imaging and gene sequencing technologies to provide unprecedented insight into the biology of cells, animals, and humans, and the genetic basis for a number of conditions. Through the use of brain imaging, computational modelling, and epidemiological studies, the Mental Health and Complex Disorders Program works to improve outcomes and recovery for those suffering with these diseases.

A number of groups from the program are directly involved in the IMAGEMEND project - Neuroimaging Genetics, Quantitative Genetics and Genetic Epidemiology. The Genetic Epidemiology laboratory has a long history in twin studies and is internationally renowned for conducting detailed phenotyping in large twin samples, with a strong focus on the genetics of anxiety, depression, and addiction disorders.

More recently, the Quantitative Genetics and Neuroimaging Genetics groups have emerged with interests including ADHD and magnetic resonance imaging (MRI) respectively. The Neuroimaging Genetics group focuses on elucidating the neurobiological and genetic causes of major mental illnesses through the integration of structural and functional neuroimaging, measures of cognition, health and wellbeing, and through behavioural and molecular genetic approaches. The primary goal of this research is the identification of the genes and pathways that influence the structure and function of the human brain, and provide a window into the biological mechanisms leading to mental illness.

As partners on the IMAGEMEND project, we will utilise data collected from our imaged sample - the Queensland Twin IMaging (QTIM) sample – to achieve the aims of the project. The QTIM sample is a large (n=1200) and well characterized population sample of young adults with multi-modal imaging (sMRI, DTI, fMRI, rsfMRI), cognitive, and clinical phenotyping, and with genome-wide genotyping for GWAS.